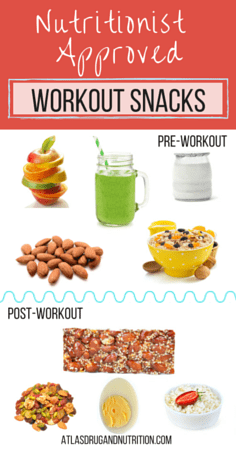 Eat Smart: Nutritionist Approved Workout Snacks
Tuesday February 7, 2023
When it comes to working out, you want to make every second count. After all, you're putting a lot of sweat and hard work into keeping yourself in shape, and you want to see results!
The truth is, what you eat before and after your workout sessions plays a huge role in the results that you see on the scale and in how you feel. How do you know what to eat? Will just anything do? In fact, should you eat at all before you hit the gym?
Nutritionist Approved Pre-Workout Snacks
Although some workout fans swear by not eating at all before a workout, the truth is that your body needs fuel if it's going to make the most out of your sweat sessions. However, not just any fuel will do. Pre-workout, you'll want to focus on beefing up your carbs. But, don't head to the potato chip aisle just yet.
Complex carbs are key to your success. Here are a few suggestions to keep you pumped up for your workout:
1. Plain Yogurt with Fresh Fruit
This snack provides nutrition in the right form. Yogurt contains natural probiotics that are good for your digestion, as well as a healthy amount of fats to provide sustainable energy. By adding fruit to the mix, you give your body necessary vitamins, as well as a burst of natural sugars for energy.
2. Hummus with Pita Chips or Veggies
Hummus contains natural minerals that fuel your metabolism, as well as healthy fats. The pita chips or vegetables provide a complex carb that will give your body sustainable energy throughout your workout.
3. Rice Cakes with Almond Butter and Honey
Your first thought about rice cakes may not be a good one. However, you've likely never had rice cakes like these before!
Chow down on two rice cakes with about a tablespoon of almond butter and a drizzle of honey for a natural boost of energy.
4. Oatmeal with Nuts and Dried Fruit
Even if you don't plan your workouts after breakfast, oatmeal is a pre-workout snack that can be enjoyed any time of day. Oatmeal is a complex carb that, when mixed with nuts and fruit, provided a balanced amount of carbs for long-term energy, protein and fat for muscle health, and natural sugar for a burst of energy.
5. Fruit Smoothie
A fruit smoothie can be the perfect way to boost your energy right before a workout. Load up on berries, a banana, some coconut oil, and some unsweetened almond milk for a delicious pre-workout beverage.
Nutritionist Approved Post-Workout Snacks
Equally important is what you eat after your workout. This is your recovery period, so you want to give your body the tools it needs to repair itself, and continue to build muscle. This means providing it with plenty of protein.
1. Protein Bar
Not all protein bars are created equal. Check the ingredients carefully to ensure that you don't choose one that is laden with sugar, or one that professes to a be a protein bar, but only contains a few grams of protein.
2. Cottage Cheese and Fruit
Cottage cheese contains a healthy amount of protein, and by adding fruit to the mix, you give your body a healthy dose of energy, as well as nutrients.
3. Protein Smoothie
Protein smoothies are a quick and easy way to give your body the tools it needs to repair itself after an intense workout.
Try adding 1 1/2 cups of almond milk to a scoop of vanilla protein powder, one tablespoon of almond butter, and one banana.
4. Hard-Boiled Egg and Nuts
Hard-boiled eggs can be made up ahead of time and saved in the refrigerator. They provide a healthy dose of natural fats and protein, that, when eaten with heart-healthy nuts, helps you to make the most of your workout time.
5. Turkey-Pepper Rollups
Sliced turkey is a lean protein that helps you to build muscle. Wrap a slice around some red or green bell pepper slivers to create an antioxidant-rich snack that will help you flush out those toxins and also build muscle at the same time.
What to Do Next
It's not easy to live healthy in a world that promotes a junk food lifestyle. Ready to get a little support for your healthy habits? Check out ebook, Better Health Through Good Nutrition: A User's Guide. Inside, you'll learn all about how to avoid sabotaging your own health with nutrition myths, and how to lose weight when nothing seems to be working.
Enjoy your free copy in good health!