Your knowledge of your own body and the mechanisms that cause injuries and disease is empowering! The more you know, the more committed you will be to taking control of your own health. We are here to act as your partner in this journey.
As pharmacists, our extensive training in bio-chemistry allows us the ability to examine disease. As clinical nutritionists, we can target nutrients and suggest lifestyle changes and ways to balance hormones through diet. Our pharmacy is devoted to educating you about your body, how it works and how to heal it. We believe in working with our patients as partners, to learn from each other in our journey together to maximize health.
"The doctor of the future will give no medicine, but will interest his patient in the care of the human frame, in diet and in cause and prevention of disease."
Your treatment plan may include dietary recommendations, nutritional supplements, lifestyle modification, evaluation of current drug therapy and consultation with your current Physician or Practitioner. Your plan may follow a course similar to this:
Assess treatment plans holistically, functionally and naturally. The initial stage of therapy includes an evaluation and treatment plan.
Follow-up, reevaluation, treatments and patient education.
Patient reclaims control over their health.
Provide ongoing assistance and support to all of our patients through the process of becoming aware of their role in maintaining health.
Our Compounding Department
A 1980 graduate from Long Island University's A & M S College of Pharmacy, Brooklyn, NY. After working for a series of chain stores and a couple of local independents, Tony purchased Atlas Drug in 1990. The store was renovated in 1999 taking over the existing card shop next to the pharmacy and Atlas Drug and Nutrition was born.
Tony became interested in nutrition while attending a seminar given by Dr.Michael Murray. He has integrated conventional medicine with complementary nutrition. Diet, exercise and lifestyle modifications are Tony's keys to a much healthier patient.
He has completed certification courses in compounding, asthma education, home healthcare and various nutrition certifications. In 2004, Tony received his certification in clinical nutritionist from International  & American Association of Clinical Nutrition(IAACN) and is a member of A4M.
As anti-aging specialist, Anthony often counsels women when treating hormonal imbalance to provide a natural solution for women and making it possible to live life to its fullest.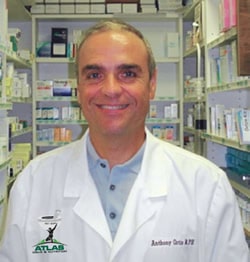 Eric Jaderlund RPH Compound Pharmacist
Eric came on board into the Atlas Drugs family in August 2013. Eric graduated from Rutgers College of Pharmacy in 1994, and has practiced pharmacy in retail since then, but has transitioned to compounding about 6 years ago, and has enjoyed the challenge it brings. Eric has been instrumental in maintaining the high standards of the compound lab and moving the lab forward towards accreditation by PCAB.
Vincent was born and raised in North Bergen. He has been working at Atlas Drugs since January 2002. In 2007, he attended PCCA's Primary training course. He enjoys the professionalism and the atmosphere that working in the lab brings. In 2009, Vincent became a Certified Compound Technician. Along with Eric, Julie and Sergio, Vincent helps keep the compounding department running smoothly and efficiently.
Mark Galabi Lab Assistant
Mark is a welcome addition to our growing compounding staff. Our new lab assistant does much of the bulk capsule making and milling of the transdermal creams that are prescribed on a daily basis. A graduate with a B.S degree with a double major in Chemistry and Biology from Rutgers, Mark has made a seamless transition into the compounding lab.
Josh Lucero Customer Service
Josh has been working since 2009.  He is our point person when dealing with insurance and prior authorization issues. Billing for compounds is not always straight forward and having Josh in charge, really helps with improving customer relations.
Yesmin Quiroz and Ashley Cruz, Compounding Educators
Yesmin Quiroz and Ashley Cruz are responsible for educating physicians about the benefits of compounding. While maintaining a strong relationship with physicians is important since it provides the doctors with other options and modalities. Yesmin recently attended a recent Wound and Pain Management Symposium held by PCCA in New York City and learned many new formulas they could inform their doctors about.