Prescription Transfer – How To Transfer a Prescription To One of Our Pharmacies
We welcome your transferred prescriptions at each one of our
pharmacy locations in Northern New Jersey
that we own! It's easy to transfer a prescription to T&F Pharmacies from ANY pharmacy within the United States. 
When you contact us to do a prescription transfer, please be sure to provide the following: 
New Prescription – How To Fill a Prescription at Our Pharmacy
We can accept your new prescription online via a scanned copy or by e-mail to
Atlasdrugs@gmail.com
.
However, if you decide to come into the store, you will need to provide us with the original prescription. You will also need to provide: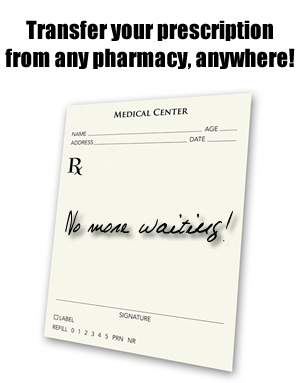 How Long Will It Take for My Prescription To Be Transferred or Filled?
We pride ourselves on providing fast and convenient prescription services to our customers. However, certain factors outside of our control can sometimes lengthen the process. 
In most cases, you can expect your perception transfer or new prescription to be ready within a day. If you find that the process is taking longer than expected, you may need to call your physician or your health insurance to make sure they do not need to give additional information for the prescription to be filled.
If you have any questions or you want to fill a prescription or transfer a previous prescription, contact us today. We're happy to help you every step of the way.
If your inquiry is related to an existing prescription order, please call our toll-free phone number below for faster online service: